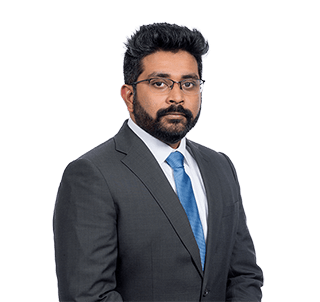 Partner | Corporate and Commercial, Private Equity, Ecommerce
education
B.Com., LL.B. (Hons.), Hidayatullah National Law University, Raipur, Chhattisgarh (2009)
Arun Scaria is a Partner in the Corporate and Commercial Practice Group in the Bengaluru office. Arun's expertise lies in mergers and acquisitions, private equity, and joint ventures. Equally adept at inbound and outbound transactions, Arun's spectrum of work includes M&A, PIPEs, structured debt, public takeovers, leveraged buyouts, strategic partnerships, and corporate restructuring.
Arun's focus industries include new age technology, cybersecurity, IT and IT services, e-commerce, and fintech.
Having represented multiple portfolio companies, private equity investors and strategic players, in investments and exits, Arun can handle transactions pertaining to the entire life cycle of investments in a business. He also works closely with many new age Indian tech companies in shaping their governance policies and regulatory compliances.
Professional Affiliations
Karnataka State Bar Council
Representative Matters
Arun Scaria has represented and advised the following clients
Flipkart Limited
Advised on (i) sale of a majority stake to Walmart Inc. for USD 16 billion. This is the largest M&A transaction in the Ecommerce space in India and amongst the largest ever in the world, and (ii) a Billion-dollar investment by Softbank, Flipkart's acquisition of, Liv AI, Upstream, Myntra and ng-pay.
Qualys Inc
Advised on multiple M&A transactions in India.
YKK Group, Japan
Advised on acquiring an aluminium fabrication business of a public listed Indian company.
Wilmar International
Advised on acquiring the controlling stake in a public listed Indian sugar manufacturer.
Omnova Solutions, France
Advised on the sale of Omnova India to Apcotex Industries.
Tiger Global
Advised on the investments in a leading Indian insurance web aggregator and an online audio-visual content creation company.
Cisco
Advised on the investments in IL&FS Technologies Limited.
Publications
Ergo Update
19 Mar '21
Ergo Update
07 Mar '19
Article
15 Nov '18