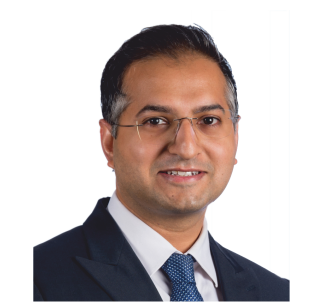 Partner | Dispute Resolution
education
BLS., LL.B., Government Law College, Mumbai (2009)
Kingshuk is a Partner in the Dispute Resolution practice group in the Mumbai office. He is a qualified Solicitor registered with the Bombay Incorporated Law Society. With over a decade in the profession, Kingshuk specializes in a variety of commercial and contractual disputes. He has led and appeared in arbitrations administered under the rules of LCIA, SIAC, ICC, SCMA, WIPO as well as ad-hoc arbitrations.
Kingshuk has represented clients in disputes arising out of M&A transactions, international/ domestic joint ventures, investor-promoter agreements, expert valuations, maritime disputes, construction contracts, recovery of debts, intellectual property rights, insurance claims and real estate development and transactions.
Professional Affiliations
Bar Council of Maharashtra & Goa
Bombay Incorporated Law Society
Bombay Bar Association
International Bar Association (IBA)
Commercial Bar Association (COMBAR)
Association of International Petroleum Negotiators (AIPN)
Representative Matters
Kingshuk Banerjee has represented and advised the following clients
One of India's leading retail and fashion conglomerates
Advised on an LCIA administered arbitration in London pertaining to a dispute with the joint venture partners based in Europe and North America. The dispute was recently resolved.
The founders and promoters of a leading manufacturer of BOPP packaging tapes
Advised on a SIAC administered arbitration in Singapore pertaining to a dispute arising out of a share purchase agreement with the joint venture partner based in North America, on the interpretation of "price adjustment" and "earn-out" clauses the agreement. The dispute was recently resolved.
A Singapore based group engaged in the business of trading, import and export
Advised on a dispute arising out of an investment agreement entered with a Hong Kong registered entity promoted by an Indian resident.
A leading Indian corporate house in the textile sector
Advised on a dispute pertaining to the enforcement of pre-emption rights arising out of a shareholders' agreement with a German joint venture partner. The legal proceedings included commencement of an anti-arbitration action at the Bombay High Court and the dispute was ultimately resolved in the early stages of the arbitration in Dubai (ICC administered arbitration).
A leading Indian Industrialist
Advised on an ICC administered arbitration arising out of a dispute pertaining to the enforcement of an exit clause (put option), with a SEBI registered foreign venture capital investor based out of Mauritius.
One of India's leading provider of diving and bulk carrier services
Advised on an SCMA administered arbitration pertaining to a dispute with a Singapore based group rendering services in the offshore oil and gas sector.
A Singapore headquartered multinational bank
Advised on the enforcement of foreign awards in India against an Indian counter party.
The founders and promoters of India's leading online poker gaming portal
Advised on a domain name dispute leading to an arbitration under the aegis of WIPO.
News and Events
Kingshuk Banerjee has featured in the following news and webinars