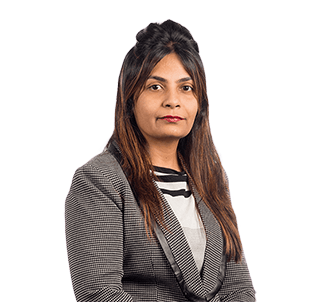 Counsel | Corporate and Commercial, Private Equity
education
Solicitor, Mumbai (2005)
LL.M., Mumbai University (2005)
B.Sc., LL.B., Mumbai University (2003)
Stuti Galiya is a Counsel in the Corporate and Commercial Practice Group in the Mumbai office. Her primary areas of practice includes mergers & acquisitions, joint ventures, private equity investments, foreign investments, technology collaborations, commercial contracts and general corporate laws. Her M&A and private equity work has been across sectors with a focus on retail, hospitality, construction and development, financial services, manufacturing industries, automobiles, service industries etc.
Professional Affiliations
Bar Council of Maharashtra & Goa
The Bombay Incorporated Law Society
Representative Matters
Stuti Galiya has represented and advised the following clients
Temasek Capital Management Pte. Ltd.
Advised on India leg of acquisition of 30% (thirty percent) shareholding in Haldor Topsoe A/s including its Indian subsidiary Haldor Topsoe India Private Limited.
Quad/Graphics Inc.
Advised on the Indian Law aspects of its acquisition of Periscope Inc. and its subsidiary in India, Periscope Printing and Packaging India Private Limited for USD 132 million.
Honda Motor Co., Ltd.
Advised on sale of 26% shares by it in Hero Honda Motors Limited to Hero Investments Private Limited as a 'inter se' promoter transfer.
Delivery Hero UG and Foodpanda GP UG
Advised the existing shareholders of Pisces Eservices Private Limited ("Foodpanda") to sell their entire stake in Foodpanda to ANI Technologies Private Limited ("Ola") in exchange for stock in Ola valued at $40 million.
Iron Mountain
Advised on acquisition of the information management operations of Santa Fe Group A/S, the global leader in international mobility and relocation, in 10 regions (that is, Spain, India, Hong Kong, Macau, Indonesia, the Philippines, Singapore, Malaysia, South Korea and Taiwan) in both Europe and Asia for approximately €27 million (approximately $30.2M).
Varian India Private Limited
Advised on acquisition of business by Agilent Technologies India Private Limited pursuant to a global sale.
Neptune Companies
Advised on the acquisition of assets relating to the Enterprise Business of Nortel Technology Excellence Centre Private Limited and Nortel Networks (India) Private Limited.
FabFurnish GmbH
Advised on a sale of 100% of the share capital held by it in Bluerock eServices Private Limited to Future Retail Limited.
Rexam Beverage Can (India Holdings) Ltd
Advised on dissolution of its joint venture with Hindustan Tin Works Limited.
News and Events
Stuti Galiya has featured in the following news and webinars