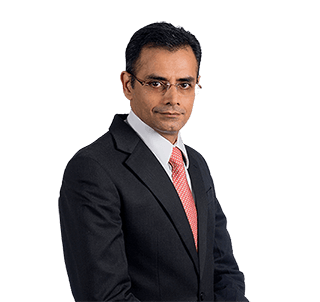 Partner | Dispute Resolution
education
LL.M., Mumbai University (2004)
LL.B., Mumbai University (2000)
B.Com., H.R. College of Commerce and Economics, Mumbai (1997)
Raj Panchmatia is a Partner in the Dispute Resolution practice group in the Mumbai office. He specialises in advising clients on dispute resolution and commercial litigation. He handles matters both in domestic and international fora and has advised clients on a wide variety of claims under the Indian arbitration laws, SIAC, LCIA, ICC, UNCITRAL and HKIAC, and has extensive experience in dealing with disputes under all forms of contracts and agreements.
Raj is appointed on the SIAC Panel of Arbitrators and HKIAC List of Arbitrators. He is also on the Panel of Singapore International Mediation Centre (SIMC) as an India Specialist Mediator and a Singapore International Mediation Institute (SIMI) Accredited Mediator.
Raj is one of the select members of the SIAC India Users Counsel and the ICC India Arbitration Group. He was instrumental in drafting of the Mumbai Centre of International Arbitration (MCIA) Rules and is a co-convener of Indian Arbitration Forum Western Region.
A regular speaker at various conferences and seminars, Raj has been invited by many prestigious bodies such as the International Chamber of Commerce (ICC), London Court of International Arbitration, India (LCIA India), Indian Council of Arbitration (ICA), Singapore International Arbitration Centre (SIAC), Mumbai Centre for International Arbitration (MCIA), Swiss Arbitration Academy (SAA).
Professional Affiliations
Bar Council of Maharashtra & Goa
Bombay Incorporated Law Society
Supreme Court Bar Association
Bombay Bar Association
SIAC India Users Counsel
ICC India Arbitration Group
Mumbai Centre of International Arbitration
Law Society of England & Wales, U.K
Recognition and Accomplishments
Raj has been consistently recommended by many of the world's leading law chambers and accreditation bodies. He has been recognised as Future Leader in Arbitration by Who's Who Legal in their Global Guide for Arbitration in 2021 and 2022 and by Chambers and Partners in the field of Arbitration in their 2021 and 2022 Ranking. He has also recently been listed by Legal 500 in the field of Dispute Resolution in their 2022 Ranking
Raj received the 'Rising Star under 40' Award in 2016 by Legal Era.
Representative Matters
Raj Panchmatia has represented and advised the following clients
Mumbai Metro Regional Development Authority (MMRDA)
Represented and advised in one of the largest Infrastructure arbitration dispute regarding construction of Mumbai Metro Rail Project for a total claim of INR 4,500 Crores. Also successfully advised and procured an order for MMRDA on proceedings involving metro fares as per the agreed terms in the concession agreement between MMRDA and Mumbai Metro One Private Ltd.
A large French business house
Defended the claims aggregating to approximately EUR 1,597,000, for alleged breaches of shareholders agreement.
MAN Industries (India) Limited
Represented and advised in recovering payments of EUR 24 million under a manufacturing and supply agreement prior to shipment of goods to Iran in the background of certain existing international sanctions and further securing necessary documents to the client from the Iranian counterparty.
Narendra Plastics Private Limited
Represented and advised Asia's largest manufacturer and supplier of plastic bags, in a dispute against its international supermarket chain customer and advised on strategy and securing order for payment of USD 1.8 million.
Indian promoter
Represented and advised on disputes arising out of the shareholders agreement for enforcement of a put option, indemnity and guarantee rights of the investor involving payment of AED 137,500,000. The matter involved three multi-jurisdictional disputes, with more than one governing law of the contract.
A Japanese client
Represented and advised on arbitration for recovery of outstanding dues of USD 2 million in a dispute arising out of an EPC contract in the energy and infrastructure sector.
Indian Beauty and Hygiene Association (IBHA)
Represented and advised on challenging the vires of an amendment to the Legal Metrology (Packaged Commodities) Rules seeking mandatory marking of cosmetic products with a red or green dot, indicating the source and/or ingredients as vegetarian or non-vegetarian.
Tech Mahindra Limited
Represented and advised on the constitutionality and retrospective effect of Payment of Bonus (Amendment) Act 2015.
Vedanta Limited and Cairn India Limited
Represented and advised on a merger scheme which consolidates Vedanta Limited's position as one of the world's largest diversified natural resources companies.