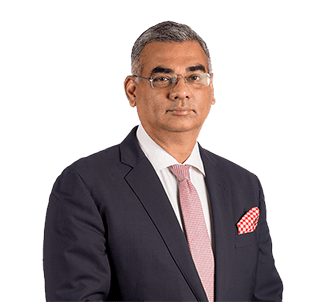 Executive Director - Human Resources |
education
Management Graduate, Symbiosis Institute of Business Management (1990)
Amar is the Executive Director - Human Resources of the Firm. He has more than 27 years of industry experience.
In his last role with Tata Capital (2007-2015), he was Head – Human Resources and Member – Management Committee. He was also responsible for the Learning & Development, Corporate Social Responsibility, Administration & Infrastructure and the Safety Functions. Amar was with the Tata Group for 15 years, and worked with various Tata Group companies at several senior level positions in Human Resources, including Tata Finance, Tata TD Waterhouse Securities, Tata TD Waterhouse Asset Management and the Indian Hotels Company (Taj Group of Hotels).
Amar began his career with Bharat Petroleum and prior to joining the Tata Group, he worked with the Essar Group (1995-2000).
In his various assignments, Amar has anchored numerous initiatives to support the development of strategic Human Resources practices. His focus has always been on aligning the Human Resources function to dovetail with business plans. His passion lies in setting up and establishing the HR Function in new companies, in the formulation of key HR policies, team building & engagement. His current passion lies in the study and building of cultures.
Professional Affiliations
Member of HR Committee - Bombay Chamber of Commerce & Industry