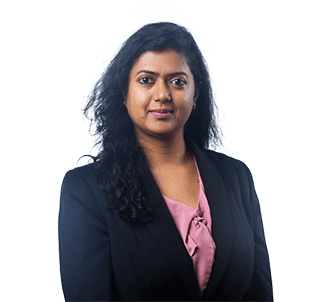 Partner | Indirect Tax
education
B.S.L., LL.B., ILS Law College, Pune (2006)
Rashmi Deshpande is a Partner in the Indirect Tax Practice Group in the Mumbai office.
Rashmi has been involved in various Indirect Tax & Customs advisory, litigation and structuring assignments.
Professional Affiliations
Bar Council of Customs, Excise and Service Tax Appellate Tribunal, Mumbai
Bar Council of Maharashtra & Goa
Representative Matters
Rashmi Deshpande has represented and advised the following clients
An Indian software company
Represented on customs classification dispute at Tribunal level.
A cryptocurrency exchange
Advised on challenging the regulatory restriction on banking transactions in relation to cryptocurrency transactions in India.
A plastic manufacturing company
Advised on challenging tax circular levying GST on the in-bond transfer of imported goods in a Customs Bonded Warehouse.
A multinational pharmaceutical company
Advised on structuring of operations from indirect tax perspective, setting up of compliance procedures in multiple States, assistance in obtaining SVB orders and representation of customs classification dispute before the Chennai Tribunal on redemption fine.
A multinational animal pharmaceutical company
Advised on structuring of all its transactions from indirect tax perspective and assistance in setting up compliance procedures in multiple states.
A credit card division of an international bank
Advised on structuring transactions to avail maximum credit benefits and assistance in its first ever service tax audit resulting in clean report.
A foreign bank
Advised on indirect tax implications on all its banking transactions and creating a manual as a one stop destination for major indirect tax queries.
A global management consultancy
Advised on major transactions and assistance in setting up compliance procedures and resolution of high tax demand before the assessment and appellate authorities.
A leading Asian bank
Advised on structuring of its ECB business from the service tax perspective and representation work for refund claims filed for excess tax discharged.